Sri Pawan Kalyan's Message
"A warm welcome to the caring and the curing hearts..! It gives me immense pride and esteemed sense of responsibility for associating myself with this noble proposal - Hrudaya Spandana Foundation, with the objective to reduce premature death and suffering from heart and blood vessel diseases in India. I am always grateful to my admirers and I owe this stardom to each one of you; to reciprocate in the same measure I always wanted to connect with you…
Mr. Madhusudhan Reddy garu, Founder/Chairperson Hrudaya Spandana Foundation and Dr. Sharath Reddy garu, Director & Cardiologist, Sunshine Heart Institute together came up with the idea of a generous suggestion to bond with their team and to spread awareness about common heart related ailments and to provide means to reduce the impact of related disease burden on society.
Hrudaya Spandana Foundation, as the tag line reads 'Healing Hands, Helping Souls, Beating Hearts' is a platform for like-minded professionals (Doctors) who are specialists in advanced cardiac care, social organizations (Prajahitha), offices (ITCSA), philanthropists (Donors/Contributors) and responsible citizens like each one of us to contribute our might and an opportunity to share our societal concern and sensibilities. I hope together we can make a significant contribution to the humanity and that your participation will make it possible to reach all those who matter to care.
As an Actor, I was craving to portray a similar role of this nature on celluloid but now I got a chance to participate and support the same in real life, and at the same time a righteous opportunity to connect with my followers. The theme, 'Walk for Heart, Reach for a Heart' stresses the need to keep your heart healthy with regular physical activities and also reach out to those who are in need of medical care due to heart diseases but out of bounds to access quality and advanced treatment. I hope each one of you and also those who could not attend today's walk will make this noble mission a grand success and ignite a sense of concern, faith and care towards humanity…"
Yours
Power Star
IPS Anurag Sharma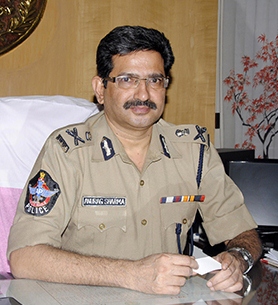 "We appreciate the efforts put in by Hrudaya Spandana Foundation team, we sincerely join our hands to successfully take the mission forward. We are conveying our warm wishes to the Hrudaya Spandana Foundation team."
Yours
IPS Anurag Sharma DGP of Telangana
Trivikram Srinivas
"I am very happy to be a part of the HEART WALK conducted by Hrudaya Spandana Foundation. I would like to convey the message to everybody to stay healthy as WALK EVERYDAY AND STAY HEALTHY"
Yours
Trivikram Srinivas
Pullela Gopichand
"Its a great initiate to bring an awareness about heart diseases occuring now a days. Heart diseases are gradually increasing day by day, Hrudaya Spandana Foundation came forward to help children who are suffering with heart diseases and to provide them a second life. I really appreciate the Hrudaya Spandana Foundation team and very happy to be a part of the website and brochure launch of Hrudaya Spandana Foundation. "
Yours
Pullela Gopichand
Kashyap
"I appreciate Hrudaya Spandana Foundation team for their excellent work and dedication for children health. Its my pleasure to be a part of the occasion of website and brochure launch, I am very happy to promote the cause and wish the whole team all the very best."
Yours
Kashyap, Tennis Player
Sindhu
"I am glad to be a part for the noble cause. Its a great initiative to help children who are in a need of treatment. I wish all the very best to the members of foundation and I heartfully support and promote the noble cause."
Yours
Sindhu, Tennis Player